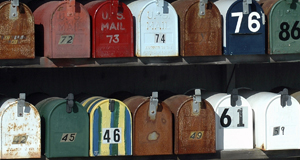 Shearer Printing has invested in state-of-the-art mailing technologies that automate and streamline every aspect of your mailing project. This not only speeds up the delivery of your project, but it also helps reduce production cost, insure maximum postal discounts and improves the accuracy of your mail.
From concept to mailbox! We offer a complete solution. We can design, print, process and mail one job or a scheduled repeating direct mail program.
We Offer:
Every Door Direct Mail (EDDM). You strategically pick the routes. Or let our specialists assist you with route selection and target criteria.
Traditional Direct Mail Programs 
Inserting
Labeling
Folding
Tabbing
Stamping
Metering
Deduping
List Purchasing
CASS Certification
NCOA Certification
Inkjet Addressing
Automation and Advanced Software for maximum postage discounts.
Our Mail Processing Includes: C.A.S.S. Certification, N.C.O.A. Updating, Combining Of Multiple Mailing Lists, De-duping Of Addresses, Online Summary Of Your Mailing List(s), High-Speed Ink Jet Printing, Tabbing, Bar Coding, Delivery To The Post Office Processed, Sorted And Ready For USPS Delivery.   
NOTE: Our normal mail list deduping process compares the First Name, Last Name, Address Line and Business Name (if applicable). Exact matches in ALL fields will flag a duplicate for removal.
Alternate duplication removal methods are available. Including One Per Household.
Contact a Printing Sales Representative for more information!